When I started FAFF, I was determined that the business was going to be setup to have a positive impact on the world from the get go. 
Like you, I'm very concerned about our climate crisis and the kind of world we're going to be leaving for our children. But I don't think business needs to be at odds with having a positive impact on the climate. 
Coffee certainly has an impact on the climate. Research carried out on the carbon footprint of the coffee supply chain of Costa Rican coffee showed that 4.98kgCO2 is produced for every 1kg of green coffee. 
Carbon footprint from Costa Rican coffee (Killian et al., Journal of Agricultural Science and Technology 2012)
Interestingly the vast majority of this (46%) is produced during consumption where 2.15kg CO2 was produced for every kg coffee. That equates to about 40g CO2 per coffee.
In the study they used an automatic coffee machine as the example, but boiling a kettle is likely to be as energy intensive as an automatic espresso machine. 
Due to the size of business we are, there is only so much we can do to impact the carbon footprint of coffee before it lands at the roastery, but we are ensuring we're working with importers and growers who have processes in place to reduce the amount of carbon they are producing. 
From then on, there are a number of things we are doing to reduce and off-set the footprint of the coffee. 
1. We're planting 1 tree for every order placed
We fund the planting of mangrove trees through Ecologi - these trees capture up to four times as much carbon per acre than tropical rainforests. This will only happen in the future when the trees mature though so...
2. We're also funding carbon reduction projects with Ecologi -
This includes peatland restoration and renewable energy projects. 
Find out more about what Ecologi are doing here. 
3. We are off-setting the carbon footprint of our workforce by 2x with Ecologi
We're a pretty small workforce of one at the moment, but as we grow, we will continue to offset.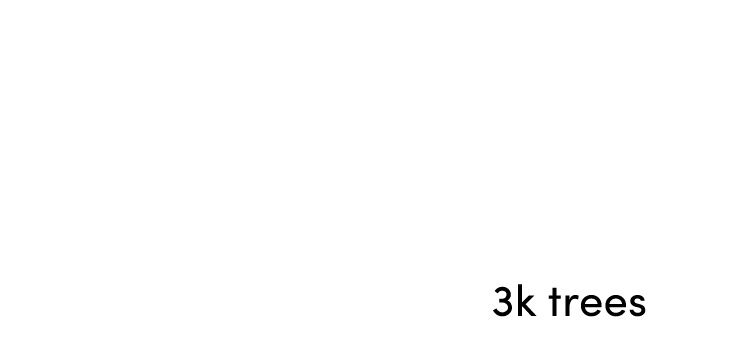 You can check how much of an impact we're having with our Ecologi initiatives and how big the FAFF Forest is getting here.
4. Compostable Coffee Bags 
Our coffee bags contain absolutely no petroleum based plastic. They're made from a renewable material called PLA (polylactic acid) and they're completely compostable. So they can go into your food waste where they'll break down into compost or be turned into biogas. 
5. Packaging Recycling
We want to take responsibility for the packaging waste we're putting out into the world. Our pouches are made from fully recyclable LDPE and can be recycled at larger supermarkets with plastic bags. 
Our sachets aren't currently recycled easily but you can return both pieces of packaging back to us to be recycled through a specialist stream with TerraCycle. 
To do this please collect as many empty sachets and pouches as possible and try to send to us in the packaging it arrived in to:
FAFF Coffee, 6 Castle View Court, EH22 2RE
Please include your email address in the package and we will credit you with FAFF points for every piece of packaging you return. These points can then be redeemed against future purchases. 
6. Reducing Your Consumption Footprint
As I mentioned above - consumption produces the largest amount of carbon in a coffees life cycle. To help reduce this there are a few things you can do:
Try to boil only the water you need for a cup - you can measure it out in your cup and then pour it into the kettle.
If you're not using one already - look into switching to an energy supplier that only uses renewable energy.